/

Products

/

AutoGold
Car Warranty
AutoGold
What is included in my Best4 AutoGold Used Car Warranty?
Best4 Warranty's Autogold policy is our highest level of coverage you can receive and the most secure way to protect your vehicle.
The AutoGold policy includes fully comprehensive mechanical and electrical component cover described in our AutoSilver policy. We also upgrade the UK roadside assistance, recovery and homestart service to cover the whole of Europe!
Europe roadside assistance, recovery and homestart services are perfect for customers who spend their vacations travelling overseas and ensures your party will arrive to your destination with ease.
Along with the components listed on this page, you'll benefit from services such as hotlines for roadside assistance & recovery, and claims & customer services. You will also unlock exclusive discounts codes for vehicle MOT's services and more!
Download our AutoGold policy booklet here for more details on what the warranty covers (pages 10 and 11), policy terms and conditions and benefits you will receive once installing the Best4 App.
What is an Extended Car Warranty?
An extended vehicle warranty is a way for you to pass the risk of your vehicle suddenly or unexpectedly suffering a mechanical or electrical failure to a covered component on to someone else.
Traditionally, an extended vehicle warranty has traditionally been a product sold or given away by the motor dealer at the same time as the used vehicle was purchased. However, on average, a manufacturer's warranty only covers the vehicle for the first three years of its life. After this cover expires, you are on your own…
This is where Best4 Warranty steps in and takes care of all the stress and hassle for you! Our warranty policies are designed with YOU in mind. Our company displays and lives by the principles of honesty, fairness and helping those most affected by the unexpected, something you will not find with any other extended vehicle warranty brand. These values extend to the very core of our business and it is these values that will define our relationship with you.
How do Extended Warranties Work?
A used vehicle warranty prepares you for the unexpected.
Here's a step by step of how a Best4 Warranty policy works:
Create a quote for your vehicle either online or over the phone with a member of our Telesales team just by answering a few questions about your vehicle.
Confirm your vehicle is eligible for the policy through our Policy Eligibility Criteria e.g. that the vehicle is less than 12 years old and has covered less than 100,000 miles.
Get your policy set up. Your documents are sent to you either vie email or post (depending on preference). These include your Policy Booklet, Policy Schedule and your Demands and Needs Form.
Continue to use your vehicle as normal until a potential issue occurs.
If your vehicle has a problem, take it to any VAT registered garage and authorise them on your behalf to carry out diagnostics of the fault (If your vehicle shows signs of imminent failure, do not continue to use it).
When the garage has fully diagnosed the fault of your vehicle, they must call us on +44 (0)3300 944 444 before they carry out any repairs to advise us what the fault is and the costs of the repair.
If the repairs are approved, a claim number is issued for the repairs to be carried out.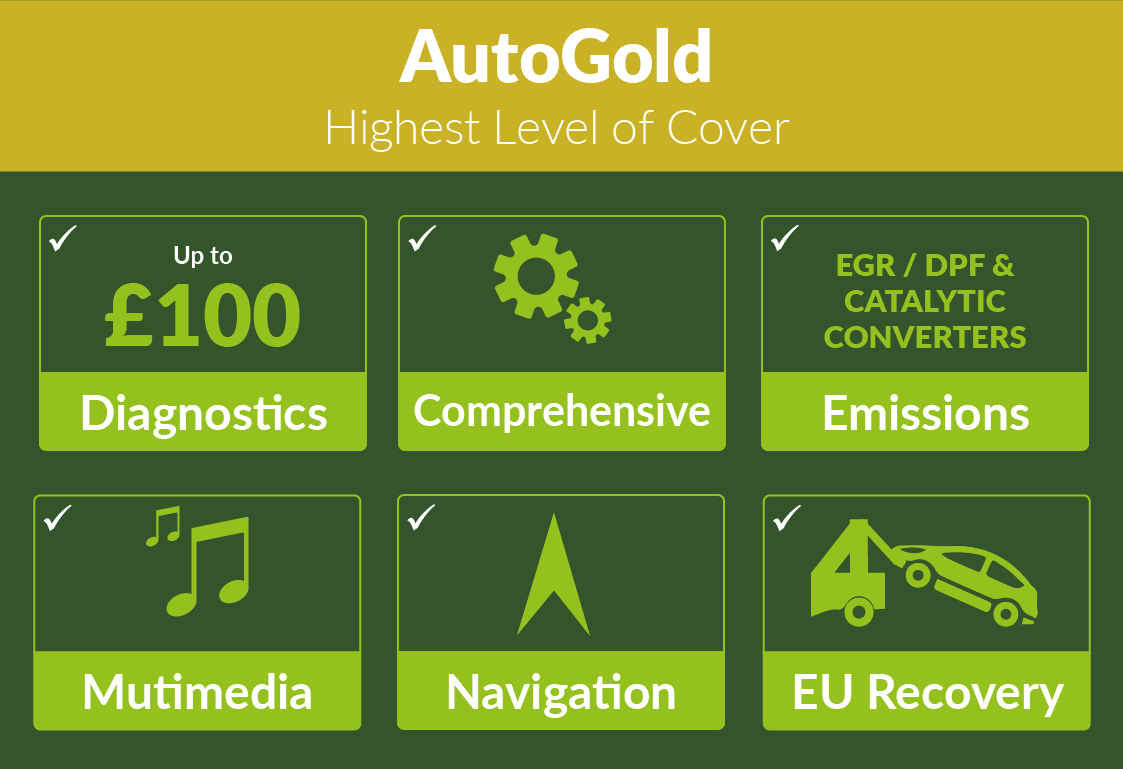 AutoGold Car Warranty At a Glance...
| | |
| --- | --- |
| | All mechanical and electrical cover in the UK and Europe |
| | Full European roadside assistance, recovery and UK Homestart, including Misfuelling and Key Protection |
| | No component contribution charges on any vehicle |
| | Unlimited mileage once cover has started |
| | In-car entertainment cover |
| | Satellite navigation systems |
| | Driver interface systems |
| | Air conditioning systems |
| | Battery cover for electric and hybrid vehicles |
| | Wear & tear cover available |
| | Hybrid & electric vehicles covered |
| | Diagnostics |
| | Wheel bearing, intake manifold and coil spring cover |
| | Catalytic converter, diesel particulate filters and EGR valves |
| | Turbo cover |
| | Four-wheel drive system |
| | 12, 24 and 36-month options available |
| | Unlimited number of claims to the aggregate value of the vehicle |
| | Transferable |
| | No compulsory excess applied |
| | No pre-cover vehicle inspection required |
For the full list please refer to pages 10 and 11 of the AutoGold Policy Booklet
Car Warranty documents
For full details of our warranty protection, feel free to take a look at our Car Warranty Documents: