/

Blog
Ghoulishly Good Car Accessories for Halloween
As Halloween approaches, it's time to add a touch of spooky charm to your car and embrace the spirit of the season. Whether you're a Halloween enthusiast or just looking to join in on the fun, decorating your vehicle can be a delightful way to celebrate.
Take a look at some exciting Halloween-themed car decorations that are sure to turn heads as you hit the road!
1. Trunk Or Treat Car Decorations Kit
Our first pick is these Halloween Car Decorations, perfect for those who want to give their vehicle a bone-chilling makeover. This hideous-looking monster opens its mouth wide, revealing bloody fangs that are enough to scare off trick or treaters!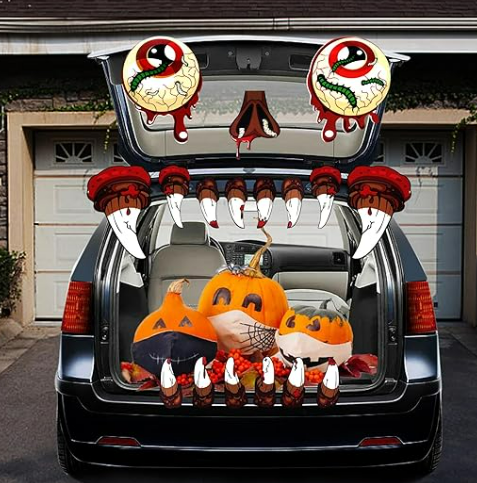 IRmm Halloween Trunk Or Treat Car Decorations Kit, Halloween Garage Door Decorations, Monster Face Sticker Halloween Car Decoration with Eyes Fangs Nostrils for Halloween Garage Door Car Archway Decor : Amazon.co.uk: Home & Kitchen
2. Novelty Witch's Legs Decoration
This Halloween witch's leg feature short skirt, cute and a little scary. The witch's Leg hanging strap secures to the trunk easily and everyone who sees it, loves it. It could easily be washed if it gets dirty.
HOWAF Halloween Novelty Witch's Legs Decoration with Black Shoes Spider Web Skirt Sticking Out of Window Door Car Auto Trunk Outdoor Scary Wicked Halloween Fancy Costume Favor Supplies Accessories : Amazon.co.uk: Home & Kitchen
3. Sugar Skull Air Fresheners
Want to strike a balance between Halloween and autumn vibes? These sugar skull air fresheners are an excellent choice. The air fresheners are a clever way to celebrate the season while maintaining a touch of spookiness. Use your own essential oil and add a few drops of essential oils to the pad then hang the ornaments from your rearview mirror and enjoy a blend of Halloween charm and fall coziness.
New Car Scents Air Fresheners Vent Clips Girly Sugar Skull Sunflower Car Accessories Interior for Women Cute Car Perfume Air Freshener Boho Halloween Decorations Cute Christmas Gifts for Mum : Amazon.co.uk: Everything Else
4. Magnetic Halloween Car Stickers
If you prefer something that's easy to swap out and customize, Magnetic Halloween Car Stickers are a fantastic choice. These removable and reusable decals can be placed on your car's exterior for a fun and spooky makeover. Swap them out as often as you like to keep your car's appearance fresh throughout the Halloween season.
25pcs Halloween DIY Magnetic Stickers Car Body Sticker Decal Halloween Garage Door Decoration Fridge Magnets Wall Sticker Decor Bat Pumpkin Magnet Decals for Indoor Outdoor Home Decor Halloween Party : Amazon.co.uk: Home & Kitchen
This Halloween, let your car become a part of the festivities with these ghoulishly good car accessories. From spooky skulls and bones to immersive interior decorations and versatile magnetic stickers, there are endless ways to give your vehicle a Halloween makeover.
Remember to drive safely and responsibly while enjoying the season's festivities.